Product Description
GAY NAKED DESTINATIONS - United States of America - Version 7
Description
The money earned by the artists goes directly to the artist and not to GoNaked. As a result, this item is not a part of the VIP package.
Updated (Volume 7) JANUARY 2023
Gay Naked Destinations is the most comprehensive guide for the gay naturist traveller.
This e-book includes listings for
Hawaii, USA including Alabama, Arizona, Arkansas, California, Colorado, Connecticut, Delaware, Florida, Georgia, Idaho, Illinois, Indiana, Louisiana, Maine, Maryland, Massachusetts, Michigan, Minnesota, Missouri, Nevada, New Mexico, New Jersey, New York, North Carolina, South Carolina, Ohio, Oregon, Pennsylvania, Texas, Tennessee, Vermont, Virginia, Washington, West Virginia, Wisconsin.
Accommodations - sample page
Included in this Gay Naked Destinations e-book are men's clothing optional accommodations, nudist beaches and men's venues and events. Each accommodation listing is a full page with detailed information and large photographs, plus a direct URL link.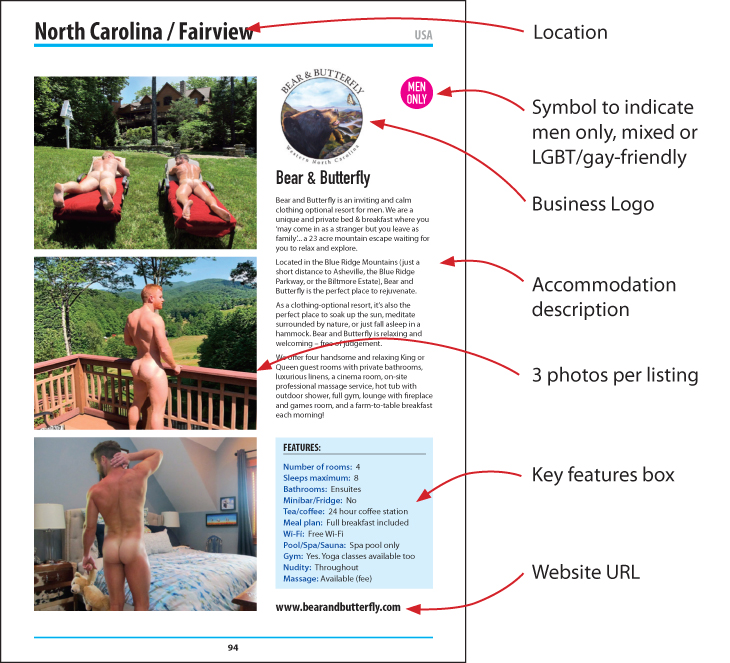 Beaches - sample page
This American e-book features the best known nudist beaches in each of the countries listed, especially those noted to have a good gay following. Many are official nudist beaches.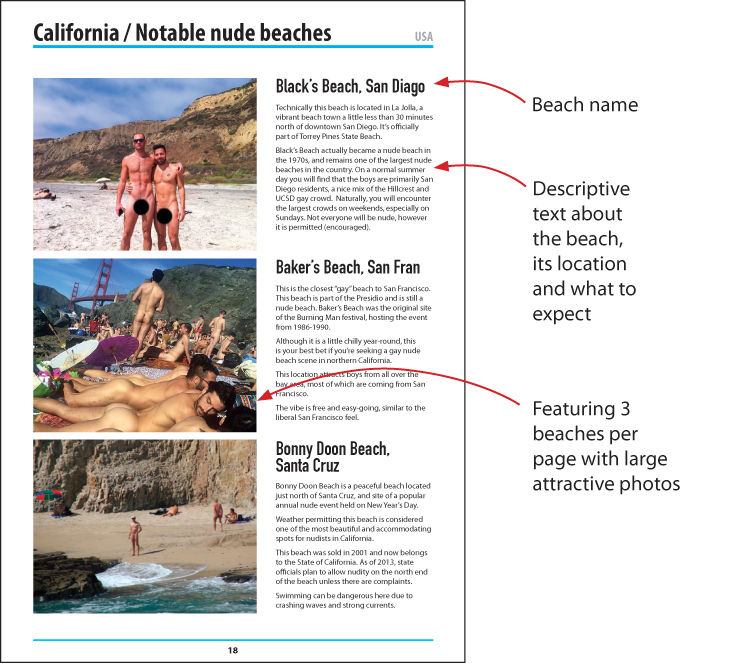 Cruise clubs & Saunas - sample page
This Naked Destinations of America e-book contains notable mens cruise clubs and saunas, particularly those known to have nude only days. Some venues are noted for having clothing optional outdoor areas for nude sunbathing.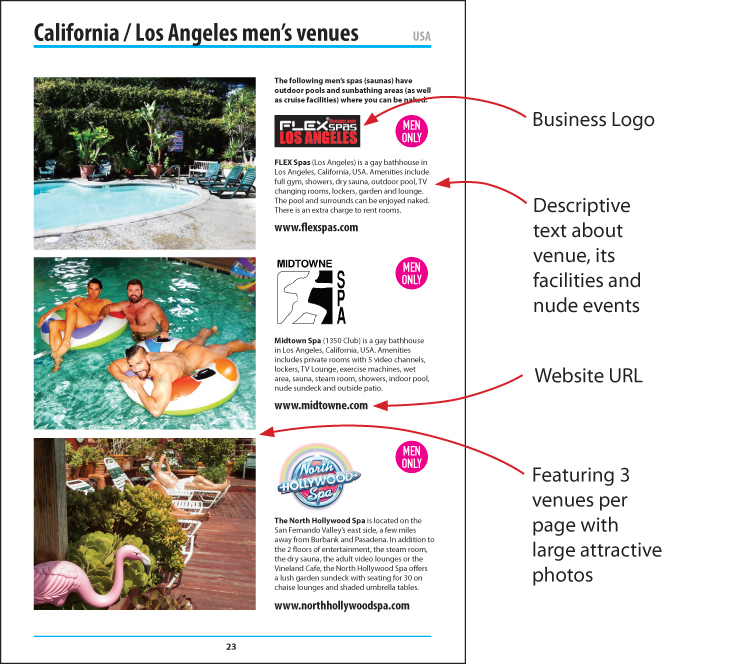 Product Videos
Custom Field
Product Reviews
Gay naked destinations usa

Purchased as I wanted to know the best areas around me and boy was I surprised. I am going to visit some. I'm sure they are not all in there but there are a lot I've never heard of

Guide was fairly good, I was using it to check that nothing new has opened near me

Their were some places I used to know of that were not in the guide, but in this time, places are closing left and right so the ommision may be that it is gone now Nick's Note: I know that Peter is constantly revising these books to reflect only places that are open. If you know of a place that should be in his books, please reach out to him and tell him so that he can verify their information.